Two Odysseys: Pimooteewin / Gállábártnit
---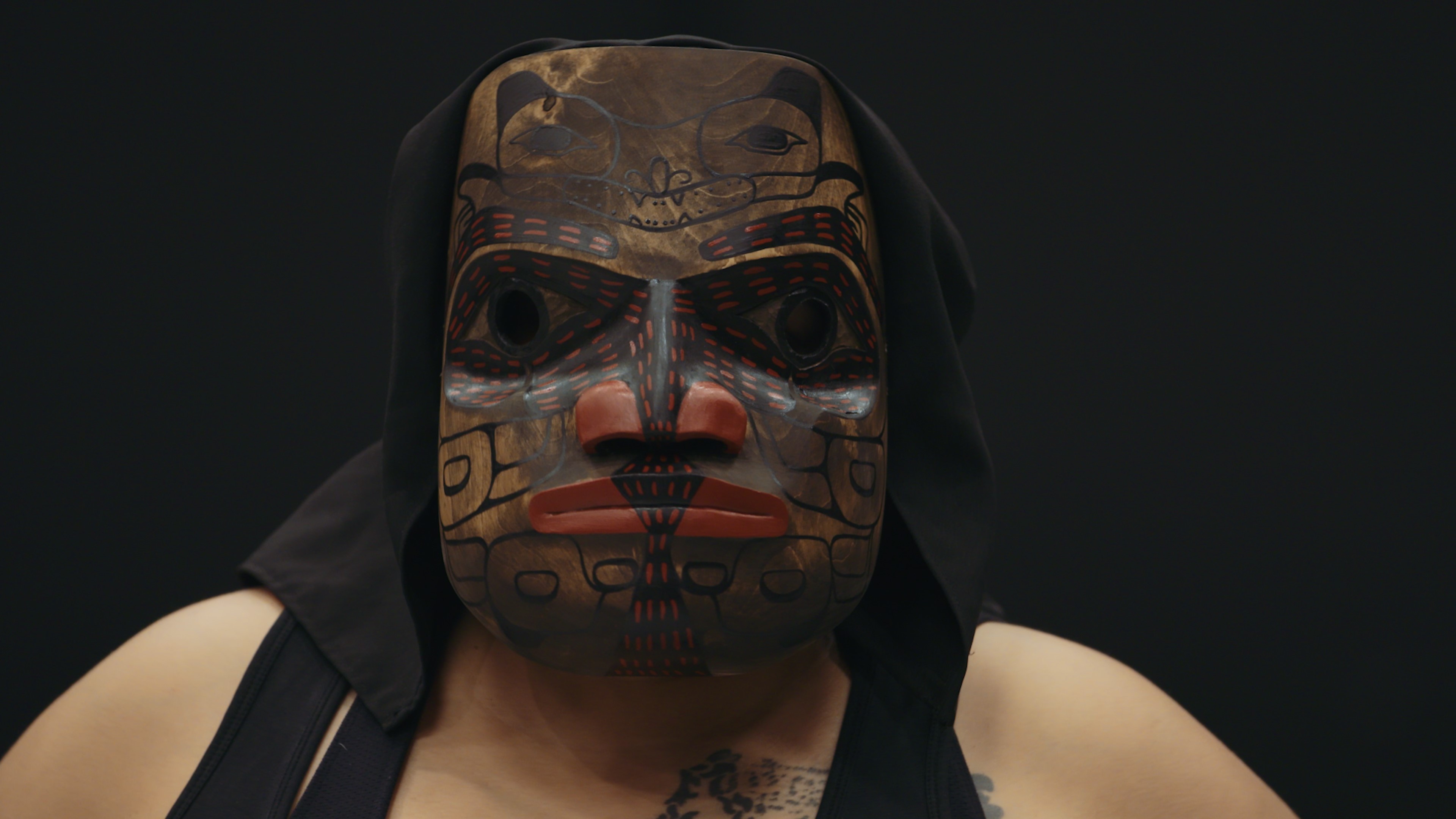 Yolanda Bonnell in Two Odysseys; mask by Mike Dangeli; photo by Blake Hannahson
Two Odysseys: Pimooteewin / Gállábártnit is a double-bill of the world's first operas in the Cree and Sámi languages.
NOVEMBER 13-17, 2019
DANIELS SPECTRUM, ADA SLAIGHT HALL
585 DUNDAS STREET EAST
BUY TICKETS
Pimooteewin is the story that tells how Weesageechak and Misigoo visit the dead spirits of their loved ones and try to bring them back to the world of the living in a basket. However, the dead souls escape and eventually return to the land of the spirits.
Gállábártnit is an international music drama co-produced by Signal Theatre, Soundstreams (Canada), and Beiváás (National Sami Theatre of Norway). The libretto is by Sami poet/lyricist Rawdna Carita Eira (Norway), with music by Britta Byström (Sweden), and directed by Michael Greyeyes and Cole Alvis. Gállábártnit, acting as a companion piece to Pimooteewin, is one of two music dramas that have been paired together to make up Two Odysseys. Pimootewin, the first Cree opera, premiered in 2008. It is composed by Melissa Hui and libretto written by Tomson Highway. The world premiere of Two Odysseys is planned for November 2019 in Toronto, Canada at the Ada Slaight Hall.
Gállábártnit was originally commissioned by Musik I Syd (Sweden), in collaboration with Soundstreams, whose Artistic Director, Lawrence Cherney has been instrumental over the last six years in initiating the development of this music and nurturing the partnerships between Byström, the composer, and Rawdna Carita Eira, librettist, who has worked extensively with Beaivváš/ The National Sami Theatre of Norway in Kautokeino, Norway. In 2013, Cherney invited Signal's Artistic Director, Michael Greyeyes to helm this production and continue its theatrical development. The partnership between Greyeyes, as director and choreographer, and Soundstreams goes back to the mid-nineties when they first collaborated on Buffalo Jump, a dance theatre work for young audiences and most recently with Pimooteewin --a landmark production as the first Cree language opera-- that premiered in 2008 and subsequently toured northern Ontario, including remote communities, such as Moose Factory, Red Lake, and Moosonee.
Composed by Melissa Hui (Pimooteewin) & Britta Byström (Gállábártnit)
Libretto by Tomson Highway (Pimooteewin) & Rawdna Carita Eira (Gállábártnit)
Directed by Cole Alvis & Michael Greyeyes
Music Direction by David Fallis
Narrated by Yolanda Bonnell (Pimooteewin) & Heli Huovinen (Gállábártnit)
Vocal soloists Melody Courage, Bud Roach, & Asitha Tennekoon
Actor/dancers Samantha Brown, Vienna Hehir & Joelle Peters
Lighting design Melissa Joakim
Costume design Shawn Kerwin (Pimooteewin) & Isidra Cruz (Gállábártnit)
Mask Carver Mike Dangeli (Gállábártnit)
Production managed by Rebecca Vandevelde
Stage managed by A.J. Morra
Choir Neil Aronoff, Bó Bárdos, Vania Chan, Rebecca Cuddy, Deantha Edmonds-Ramsay, Nicole Joy-Fraser, Evan Korbut, Michelle Lafferty, Jonathan MacArthur, Bryan Martin, Mitchell Pady, Jennifer Tarver, and Karen Weigold
Orchestral Ensemble Suhashini Arulanandam, Alejandro Cespedes, David Hetherington, Leslie Newman, Gregory Oh, Aysel Taghi-Zada, Anthony Thompson, and Shannon Wojewoda
Co-produced in partnership with and funded by: